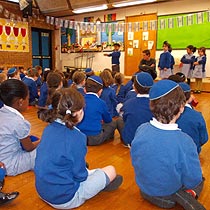 We are very proud of our community at Simon Marks and thoroughly enjoy showing new people around, especially during the school day when the atmosphere is at its most vibrant. You will usually be shown around by the Headteacher.
We are very fortunate to have two full time security guards who welcome all visitors to the school. Our security guards will show you towards the school reception where you will be asked to sign in and out upon arrival and departure.
Visitors are requested to make an appointment in advance to visit the school by contacting us.