12th December 2022
We had fun in the snow this morning, building snow sculptures.
22nd March 2022
For Purim, the staff at Simon Marks performed 'Ahashverosh and the Chocolate Hamantashen Factory' in order to raise funds for a new stage. If you would like to make a donation on our Crowdfunder page for a new stage for the children, please click on the link below. https://www.crowdfunder.co.uk/p/new-school-stage
2nd March 2022
This year for Purim, we are aiming to raise funds for the children at Simon Marks School, for a new stage for their performances. To help to raise funds the staff at Simon Marks will be performing their show 'Ahashverosh and the Chocolate Hamantashen Factory'. If you would like to watch our show virtually, then… [Read More]
12th July 2021
Simon Marks welcomed the Chief Rabbi via zoom last week. He shared a story with us and answered questions prepared by pupils. To view the Chief Rabbi's visit, please click on the picture below to watch the video on Facebook.
15th January 2021
Our remote education overview can be viewed in our school policies file, or by clicking the link below:
20th November 2020
Here is a sample of our fantastic Art Day work. We held a virtual exhibition for all our families.
10th July 2020
Simon Marks held it's annual sports day. Children in school went through all the challenging activities, pupils at home joined in through Zoom. We were all exhausted! Thank you Mr Gilani!
4th June 2020
Simon Marks is open for new admissions and tours of the school. We are happy to answer any questions during this difficult time. Please contact us on: 0208 806 6048.
4th October 2019
Congratulations to everyone at Simon Marks! We have been awarded Gold TfL STARS accreditation for our commitment to promoting and supporting safe, sustainable, active travel at our school last year. Our Junior Road Safety Officers (Nina, Nandi and Raphael) supported Mr Gilani and Ms Osborne in promoting these commitments through initiatives such as: UK Road… [Read More]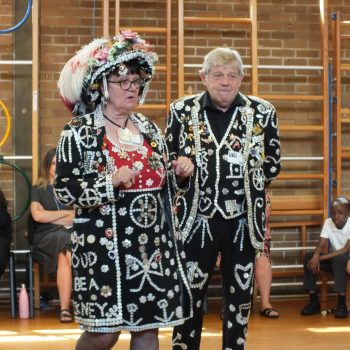 17th July 2019
On Friday we had our end of year Summer Concert. East End royalty joined us- The Pearly Queen and King visited Simon Marks. They even danced the Lambeth Walk for us. Our orchestra played and the whole event was fantastic. We even had some solo singers. Thank you to all the children, all staff and… [Read More]
11th July 2019
Simon Marks welcomed Jonathan Freedland and Tracey Ann Oberman for one night only. A fantastic discussion and debate.
1
2
3
…
7
Next »